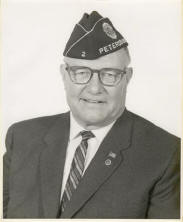 DONALD S. HOUSER
1966-1967
DATE OF BIRTH: January 22, 1915
ADDRESS: 2802 West Park Drive, Battlefield Park, Petersburg,
Virginia 23803
OCCUPATION: Independent Contractor.
Educational Advisor (part time) at Army Education Center, Fort Lee
Real Estate and Investments.
PAST OCCUPATION: United States Army (Total service 24 years);
Retired in 1961 in grade of Lieutenant Colonel.
EDUCATION: Graduate of Coe College, Cedar Rapids, Iowa, with BA in Economics and Sociology. Numerous graduate credits in Business Administration from following schools:
University of Iowa, University of Pennsylvania, University of Virginia, RPI, Sigma Nu Fraternity.
CIVIC ACTIVITIES: Board of Deacons, Second Baptist Church, Petersburg and General Secretary of the Sunday School, Second Baptist Church.
Member Retired Officers Association of the US;
Member Battlefield Park Civic Association,
Member, Petersburg Lions Club.
THE AMERICAN LEGION:
Past Commander, American Legion Post 2, Petersburg (1966-1967);
Fourth District Vice-Commander, American Legion (_967-l968);
Commander, Fourth District, American Legion (1968-1969).
Chairman and Director of American Legion College of Virginia;
Counselor, American Legion Boys State.
Past Commander, The American Legion, Department of Virginia, 1966-1967.
Officer, La Societe de 40 et 8.
A SUMMATION:
The following quoted parts of a resolution, which express Don's qualities excellently:
"Whereas, Donald S. Houser, has distinguished himself as an active energetic, and de­voted Legionnaire and member of Post 2, where he has served unselfishly on numerous committees, served as Chairman of the Ceremonies and Patriotic Observance Committee for several years, and
Whereas, he has served on numerous Fourth District Committees, including Chairman of the Fourth District Americanism Committee, served as Fourth District Vice Commander and is presently serving as Fourth District Commander, in which he has been cited by the National Commander and the Department of Virginia Commander as 'The Outstanding District Commander, Golden Year 1969,' and,
Whereas, he is presently serving as Chairman and Director of the American Legion College, is presently serving as a member of the Department Executive Committee and the 50th Anniversary Committee, and has served as a Counselor for American Legion Boys State, and has served on the National Veterans Preference Committee, and,
Whereas, he has served in all these positions diligently and conscientiously and has generously de­voted his time and talents in service to his Post, District, Department and National Organization, and is outstanding in leadership and knowledge of the Legion and its objectives,
Therefore, Be It Resolved That Petersburg Post 2, The American Legion, Department of Virginia, Petersburg, Virginia does hereby endorse and support the candidacy of Donald S. Houser for Vice-Commander, Department of Virginia, The American Legion for the year 1969-1970"
Obituaries published Wednesday, May 19, 2004
DONALD S. HOUSER
Retired U.S. Army Lt. Col. Donald S. Houser, 89, died Monday, May 17, 2004.
He was the son of the late Amos J. and Mary Kerr Houser. He was predeceased by his daughter, Mary Link. He graduated from Coe College, Cedar Rapids, Iowa, and attended the University of Iowa. He had served as Vice Mayor of Petersburg, Past District Governor of Lions International, and Past Dept. Commander of the Virginia American Legion.
He is survived by his devoted wife of 56 years, Charlotte Moody Houser of Prince George; daughters, Suzanne Stecker of North Kingstown, R.I. and Donna Lay of San Jose, Calif.; three grandchildren, John Williams of Champlain, Ill., Shannon May of North Borough, Mass., Kristine Lay of San Jose, Calif., David Stecker and Mike Lay; five great-grandchildren; three nephews, Larry Owens of Petersburg, Buddy Ford of New Kent and Jerry Ford of Disputanta.
A funeral will be conducted at 11 a.m. May 20, 2004, at the Second Baptist Church. Interment will be in Blandford Cemetery. Family will receive friends from 7 to 8:30 p.m. Wednesday at the Petersburg Chapel of J.T. Morriss & Son Funeral Home. Contributions may be made to Second Baptist Church, 3355 Johnson Road, Petersburg, VA or to the SPCA of Petersburg and Colonial Heights.
Http://TheAmericanLegion.tripod.com